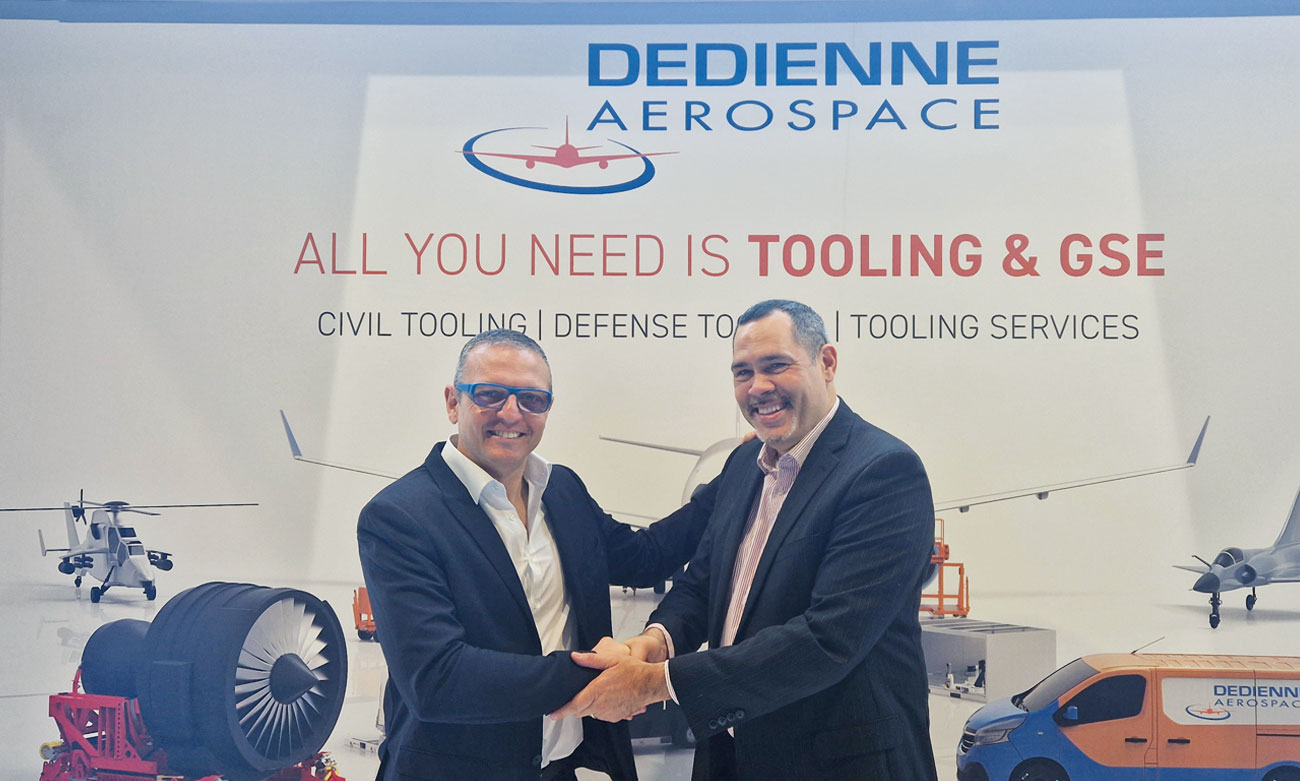 Barfield Signs Distribution and Service Agreement with Dedienne Aerospace  
AFI KLM E&M American Subsidiary BARFIELD and DEDIENNE AEROSPACE sign a partnership agreement for the distribution and service of BARFIELD Ground Support Test Equipment (GSTE). 
Paris, Amstelveen, Miami, 1st of March 2023 – BARFIELD Inc., a subsidiary of Air France Industries KLM Engineering & Maintenance (AFI KLM E&M) in the Americas, enters into a partnership agreement with DEDIENNE AEROSPACE to distribute and service its Ground Support Test Equipment (GSTE). The agreement strengthens the relationship between both companies allowing them to bring additional value to their customers worldwide.
Hervé Page, Chief Executive Officer of BARFIELD commented: "We are extremely pleased to be partnering with DEDIENNE AEROSPACE. It will allow us to continue our strategy of expanding our distribution network and better service our customers globally. The ground support equipment market is filled with innovation and customization, and we have been at the forefront of those transformations. We exist in a global market where getting closer to customers and offering them more options is imperative, and we could not have found a better partner in DEDIENNE AEROSPACE, one of the Market leaders with global presence".
Cédric Barbe, DEDIENNE AEROSPACE President stated: "Both our companies are leaders in the Ground Support Equipment industry and joining forces with this agreement will extend our collaboration and allow us to grow our market share exponentially. We will extend, thanks to this partnership with BARFIELD, Our one stop shop tooling and GSE services offer.  Thanks to our worldwide footprints, our customers will now have their Barfield units cared for at the local level".
Picture: 1st of march 2023 – Signature Agreement at MRO Middle-East in Dubai – Cédric Barbe, President of Dedienne Aerospace and Sebastien Losy, VP GSTE Parts Trading and Distribution – Barfield 
About Dedienne Aerospace
An international company specializing in aerospace tooling for civil and defense markets. The company has strong partnerships with prestigious OEMs throughout the world and is proud to support Boeing, CFM, Collins Aerospace, General Electric, Pratt & Whitney and Rolls-Royce as an official licensee.
For more than 50 years, our products have demonstrated our expertise, quality of service and technique, all with the cutting edge of industrial performance, in order to provide maximum satisfaction to our customers.
DEDIENNE AEROSPACE is an international company that operates on every continent and close to its customers, ensuring proximity and a high-quality after-sales service.
About AFI KLM E&M
Air France Industries KLM Engineering & Maintenance is a major multi-product MRO (Maintenance, Repair, Overhaul) provider. With a workforce of over 12,800, AFI KLM E&M offers comprehensive technical support for airlines, ranging from engineering and line maintenance to engine overhaul, aero structure and fan thrust reverser support, as well as the management, repair and supply of aircraft components, structured around a powerful logistics network. AFI KLM E&M supports almost 3,000 aircraft operated by 200 major international and domestic airlines.
www.afiklmem.com  or mobile.afiklmem.com
About Barfield Inc.
Barfield consists of 400 employees across its facilities in Miami, Phoenix, Louisville and Atlanta. With its leading facilities, Barfield can satisfy the needs of customers operating commercial or regional fleets in North, Central and South America. From MRO Services to Distribution and Ground Support Test Equipment (GSTE), Barfield provides complete tailor-made support programs for A320 family, 737, Bombardier, Dash 8, ATR 42 & 72, KC135 and C-17 military aircraft and Embraer 170 & 190 aircraft to operators in need of inventory and logistics solutions, repair management programs, engineering and fleet support, and component reliability management. Barfield is part of the AFI KLM E&M network, a major MRO provider.